About Heather

[For shortened bios and other press materials please visit Heather's EPK]


With her new album
North
, Chicago songwriter Heather Styka is headed in the right direction. Styka dances where others fear to tread, cutting to the truth with gutsy vulnerability. She combines the lyrical intricacy of folk with a catchy melodic pop sensibility and the grit of classic country in songs that are smart and disarming. Call it folk, call it Americana, call it alt-country, but Styka's heartfelt croon draws as much inspiration from classic warblers such as Billie Holiday and Ella Fitzgerald as it does from Gillian Welch.

When longtime collaborators Beehive Productions approached Styka about making a new album, they suggested a plan she couldn't turn down: the Adirondacks-based recording studio would bring all their gear to Styka's family lake house in northern Wisconsin. And they would bring Danish backing band The Sentimentals, who have made a name for themselves accompanying Americana artists including Jonathan Byrd, Anna Egge, and Slaid Cleeves, both in the studio and on the stage.

In a matter of days, sequestered in a small log cabin on a lake, surrounded by maple and pine trees, Heather Styka and the Sentimentals recorded the entirety of
North
, tracking most of the album live as a full band. "So many artists are pushing back against that cookie cutter, auto-tuned, sterile studio approach," says Styka. "When you work with the right people in the right space, the magic just unfolds. It's a such pleasure to capture that organically." While there's nothing undeveloped about the clean, lush sound of
North
, the performances are evocative, immediate, and colored by the unconventional approach of an impromptu northwoods studio.

Topically,
North
travels through some familiar roots/Americana territory — love and loss, wanderlust and whiskey — but often, the heartbreak depicted is more civic than personal, with lines such as "
Some folks wanna build a wall, some folks are gunning men down,
" and "
I went down to Coney Island, trying to chase down Woody Guthrie, ask if this land's still my land, too
." Much of the album was written in the months following the 2016 election, and songs like "Correlation," "O'Hare," and "Love Harder" explore the question of how to respond to an increasingly divisive world. "My generation has a hard time with super direct political songs, but we still want to talk about issues," says Styka. "We want honesty, we want to retain some cynicism, and we want to find the good in it all."

Styka also continues to explore themes of place and direction on
North
. "
Either way, I'm headed back to the cities of the north
," the first track intones. Styka recently returned to her home city of Chicago after a few years in Portland, Maine, followed by a couple years of heavy touring. "So many of my songwriter friends live in Austin, Nashville," says Styka. "And I love those places. When I visit, I feel like I live there. But there's something about cold cities like Chicago, it's the shape of home."

After growing up in the Chicago suburbs, Styka moved to the city to studying creative writing, meanwhile honing her song craft among Chicago's long-standing folk community. "Chicago has such a rich musical history, especially with places like the Old Town School of Folk Music," Styka explains. "I was definitely steeped in that tradition." Her 2011 release
Lifeboats for Atlantis
brought her to national attention, hitting #3 on the FOLK-DJ charts. Styka's honest, image-heavy songs have garnered her a number of awards, including being a New Folk Finalist at the Kerrville Folk Festival (2015, 2017) and official showcases at Folk Alliance International, NERFA, SWRFA, and FARM.

While living in Portland, Maine, Heather Styka released
While This Planet Spins Beneath Our Feet
. Recorded with Beehive Productions and printed by Styka on a 1901 letterpress in Maine, this 2014 release charted for four months on FOLK-DJ. Styka's next album,
The Bittersweet Tapes
(2016), was recorded in Tulsa, Oklahoma on an old four track recorder with sparse, ethereal production by John Calvin Abney (John Moreland, Samantha Crain). These gut-punch pretty songs nod to traditional folk, classic country, and even garage rock, carried by Styka's emotive vocals.

Live, Heather Styka comes off as something like Leonard Cohen crossed with Patsy Cline. Armed with a guileless, unvarnished delivery, she's equal parts wordsmith and entertainer. Styka's energetic shows feel as intimate and candid as late night conversation, peppered with a quirky sense of humor and confessional storytelling.

With the addition of The Sentimentals,
North
is something of a departure from Styka's earlier intimate, haunting folk albums, but the direct and narrative poetry of her lyricism remains intact. "It's still a bunch of unadulterated feelings. I tell stories about feelings. It's like we're on the same folky bummer road trip, but now we're driving a convertible with friends in the back seat," laughs Styka. "It's fun, and it's real. We need that now."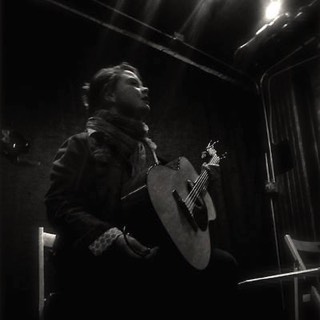 Press for 'North'
Premiered by The Bluegrass Situation

'Essential 8' Interview with The Daily Country


"A lyrically rich album that makes you feel as if you're peeking into [Styka's] diary."
- No Depression


"'North' is a journey in itself… filled with folk, pop, and Americana, but most importantly wonderful storytelling."
- The Deli


"Heather Styka preaches what we all need to hear… Styka puts her vocal prowess on full display alongside her talent for telling stories and connecting emotionally." -
Glide Magazine


Styka takes the classic folk protest album and injects stories reflective of her life… The poignant stances that Styka takes when she advises us all to love each other in an increasingly divisive world are that much more powerful with her innate ability to relate her own life's story to it all.
- PopMatters
Additional Press Quotes
"Intricate finger picking, perfect melodies, and heartbreakingly beautiful lyrics…
The Bittersweet Tapes
is a collection of 12 songs recorded on an old four track recorder, a method that allows her to convey a more raw and intimate feeling than previous releases… In this raw and intimate portrait of life, disguised as a collection of songs, Heather Styka has truly created a masterpiece… A writer with this kind of vision and ability doesn't come along very often and it's an honor to have her among us for this brief and fleeting moment in time."
- Independent Melody, Chris Darby


"With a compelling mix of storytelling and scene setting, Heather Styka takes the listener with her on every note… [The Bittersweet Tapes] tugs the ear on first listen and greets you like an old friend on subsequent visits."

- Indie Music Portal, Simon Rigby


"With a classically modern folky warble, a nimble fingerpicked guitar, and a gently placed rhythm section, Heather Styka has given us a sonically immaculate recording of personal narratives and captured moments... there's enough to keep anyone listening..."

-Sam Ueda, Dispatch Magazine


"One word leaps to mind to describe Heather Styka's voice — purity… Heather's unique delivery combines the influences of a fragile Irish air, the warm effervescence of upbeat Americana, soulful country and mournful blues. Her voice ensures these songs hit that place in your chest where emotions reside…. Discerning beauty and sensitivity... Every song fits perfectly into the whole and the sum total of [Lifeboats for Atlantis] is stunning."

- Tim Carroll, FolkWords


"Heather's songs capture moments, impressions, feelings, and thoughts in a way that connects with the listener, a lyrical wave that can carry one to shore with a solid conclusion, or go way out into the ocean, searching for an answer, insight, or direction"

- Lilli Kuzma, WDCB-FM


"Stories are often lurking behind the lyrics of a song - sometimes obscurely so. But fine and direct storytelling... is a special art when it comes to songwriting. And it's that kind of artistic mastery that poet and folksinger Heather Styka displays."

- Butch Kara, KZGM-FM